Paso Robles, 2012
On one of our trips to Southern California, we had dinner at a Morton's restaurant. This is one of the better steak houses that had an impressive wine selection, which was a significant part of our selection criteria when we look for a "beyond the normal" place to eat. On this particular occasion, we enlisted the aid of the resident sommelier rather than choosing a wine from the list. Our expert recommended a Justin Cabernet Sauvignon from Paso Robles. The wine was so exceptional that we made a note to put Paso Robles on our list of "wine country" visits. It took about 5 years to get Paso Robles in our rotation but we finally arranged a visit in October 2012.
Research
Prior to visiting Paso Robles, I watched the movie "Sideways" a couple of times but it really didn't help pick good places to visit. Note: My inspiration from "Sideways" was the wine from the region, not the "being chased by an enraged naked dude after recovering my friend's wallet from the enraged naked dude's house" part – just wanted to make that clear.



Rather than pick places at random, we asked friends and experts about which vineyards, amongst the 130+ vineyards in Paso Robles that hosted tasting rooms, which ones that we needed to visit. From these questions, we built a list of about 6 vineyards.
In addition to this research, we searched for all award winners and high ratings of Paso Robles vineyards in the past two years and built another list of the places that appeared the most frequently.
After combining these two lists, I called all of the vineyards and eliminated those that didn't have tasting rooms, weren't going to be open when we visited, or had issues shipping to Arizona.
Our trip coincided with the 2012 International ISSA (International Security Systems Association) meeting, which was held at the Disneyland Hotel in Anaheim, California. I won't elaborate on what we gained from the conference other than it was dry, didn't present anything innovative, and was essentially a sausage-fest for InfoSec nerds (we ARE InfoSec nerds, as if there was any doubt of that).
One final modification to our list came from a visit to a wine bar at California Adventure, which back in the day used to be the Disneyland parking lot ("back in the day" being the 70s). I asked Elizabeth, the sommelier at the wine bar, what her TOP THREE places in Paso Robles would be if she only had one day to visit.
Elizabeth's Top 3:
Tablas Creek

Tobin James

Niner
One of her choices was on our list already but her other two choices were not. More on this later …
After the conference, we made the four-hour drive north, through heavy, Friday afternoon, Los Angeles traffic, to Paso Robles.

Justin Vineyards
Our first stop on Saturday morning was Justin Vineyards, which was the place that first inspired our desire to visit Paso Robles and was the furthest point on the map. The road leading to Justin was barely a road, winding through hilly, winding farmland. We accidentally drove past the entrance to the tasting room and arrived at the vineyard. Normally, if the vineyard has its tasting room at a separate location (as Justin does) the vineyard doesn't have anything intended for guests at the vineyard, itself. However, Justin's vineyard has an "elite" tasting room reserved for its wine club members, where they only serve their reserve vintages – with cheese plates and couches rather than soda crackers and a stand-up bar.
Our host informed us that we had found the wrong tasting room but after we told our story about our inspiration for coming to Paso Robles, she convinced us that we needed to join their wine club. Club membership allowed us to use the "elite" tasting room as well as receive biannual shipments of Reserve wines.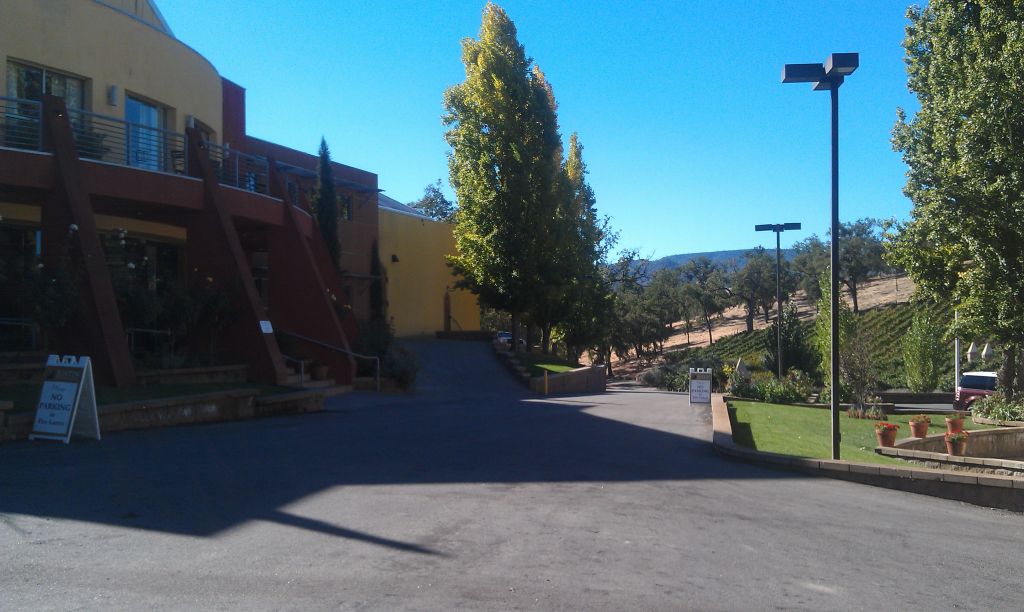 Of all the tasting rooms that we have visited, we have not yet found one where every wine that we tasted was outstanding. Our visit to Justin changed this. Every wine that we tasted was amazing in a different way. This was also surprising considering that this was the first vineyard that we visited in the morning; a time at which our palates are at their most "skeptical".
An interesting piece of information that we heard about Justin later on our trip was that the owner had been going through some kind of personal turmoil (divorce, swarms of locusts, etc.) and that the quality of the wine had declined in the past couple of years. We were surprised because if the wine that we tasted was an example of reduced quality, it must have been orgasmic in better days.
Favorites:

2010 Isosceles Cabernet

2010 Cabernet Reserve

2011 Viognier

2010 Reserve Tempranillo


Tablas Creek Vineyard
An interesting geological fact about Paso Robles is that a majority of the land consists of limestone. It turns out that this is ideal for growing Rhone varietals, which is very similar to the conditions in the Rhone region in France. The main differences in Paso Robles are the warmer weather and the fact that wines are made for quicker maturity and high volume. The French make wine that is intended to mature at a much slower rate so that they survive across generations.
Tablas Creek Vineyard was our next stop, just a few miles east of Justin. Tablas Creek made our list from three sources: (1) Frequent appearances on on-line award-winning and "recommended visit" lists, (2) Recommendations from friends, and (3) one of the three TOP 3 places to visit from Elizabeth, our sommelier contact at Disneyland.
Tablas Creek only makes Rhone varietals. They imported all of their vines from France and are using all of the 13 Rhone grapes in the wine that they make, although in more modern strategies. I have to admit that I have issues with most French wines, including Rhone varietals. Most of the time I find them to lack vigor but I think that this is because I am so accustomed to the bolder styles of California, I lack the sensitivity to appreciate the subtleties of Rhone varietals. Either that or I am an uncultured hillbilly, which is the characterization that a French winemaker would likely make of me. In any case, we did find at least three that were sufficiently excellent and within our price range to acquire.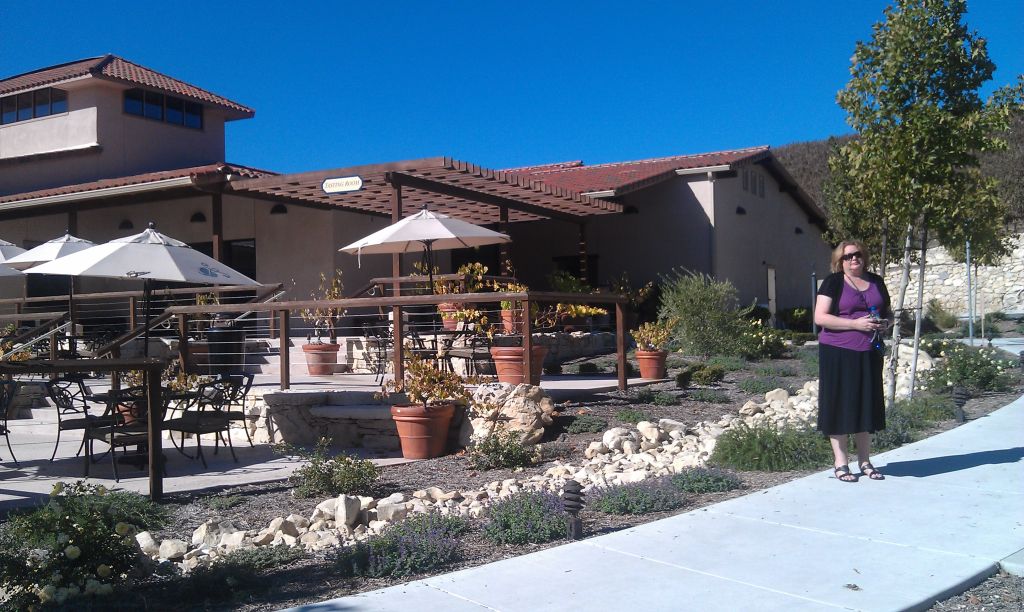 | | |
| --- | --- |
| | Another interesting aspect to our Tablas Creek visit was that they were the only ones out of any vineyard that we visited that sold cuttings of their vines. I thought about buying a couple but even if I got them to grow, they would never grow usable grapes in the Arizona heat. |
Favorites:

2010 Cotes de Tablas

2011 Rossanne

2010 Mourvedre


Villa Creek Cellars
Our next stop was Villa Creek. This was one that I almost removed from the list because I could not reach them by phone to confirm tasting room hours, whether they could ship to Arizona, or whether they would be open when we visited. I'm glad that we risked visiting there anyway because we were not disappointed. Villa Creek also made Rhone varietals but with a more stringent approach to French tradition. What was most surprising about this place was that the outside looked like an abandoned service station but the quality of the wines was completely in diametric opposition.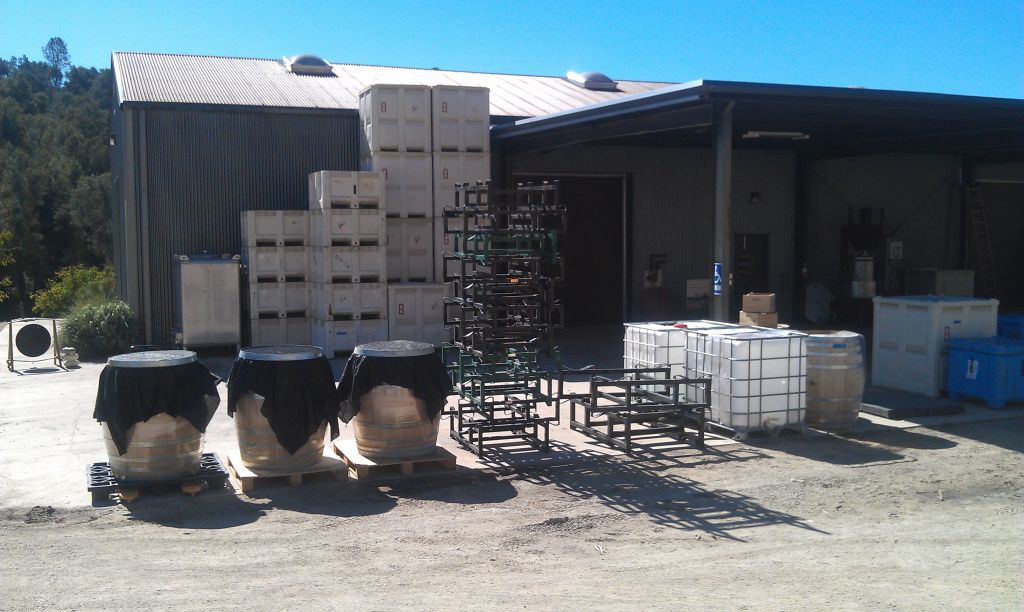 They had a standard list of wines provided for tasting but we went ahead and tasted some that were on the "other" list. One of these "others" sprung from my observation that one of the wine barrels in the tasting room had "Tokaj" printed on the barrel. Our host commented that they imported Hungarian oak barrels for aging their Mourvèdre. We tried the Mourvèdre and found it to be amongst the best that we had ever tasted.
Favorites:

Niner Wine Estates
After lunch, we were close enough to Niner, one of the optional sites from our Sommelier contact at Disneyland, that we stopped in. She had mentioned that Niner had beautiful grounds and architecture, which I assume was the sole reason for her recommendation because everything else was a disappointment. The tasting room was very busy when we arrived and we had a difficult time keeping the attention of our host to guide us through the wine flight. She really did look like she was trying but it was really busy and she had to help several people at once. The wines were OK but not outstanding. We probably would have bought a couple of bottles of Syrah if we had been able to get our host's attention but it would have taken too much time that we didn't have so we left without buying anything.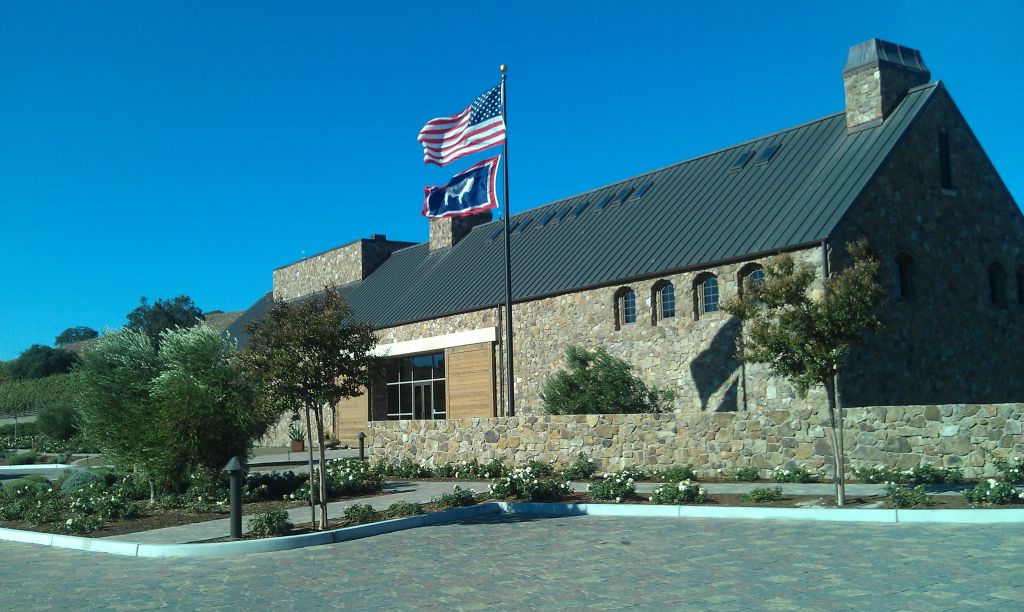 Part of the landscaping that was unique was the big heart made of trees grown into the hill overlooking the tasting room. Depending upon your perspective, I suppose it could look like a giant butt.


L'Aventure Winery
Our next stop was another optional stop off of the 46 named "L'Aventure". This place made our list because of multiple appearances on "recommended visit" lists. This turned out to be a huge disappointment and a waste of time because the tiny tasting room was completely packed with tourists. We didn't even try to go in, which was probably a good idea since another van load of people was on its way in as we were leaving.
Calcareous Vineyard
| | |
| --- | --- |
| | We drove back up through the winding Peachy Canyon trail and made our way to Calcareous, which was a recommendation from our friend Keith. The tasting room sits at the top of a hill at the end of a road that winds up around the hill. The peak is at a place that has a spectacular view of Paso Robles (just look past the two nerds and you will see the view in the background). |
Keith's recommendation was to try their Roussanne but unfortunately they had completely sold out.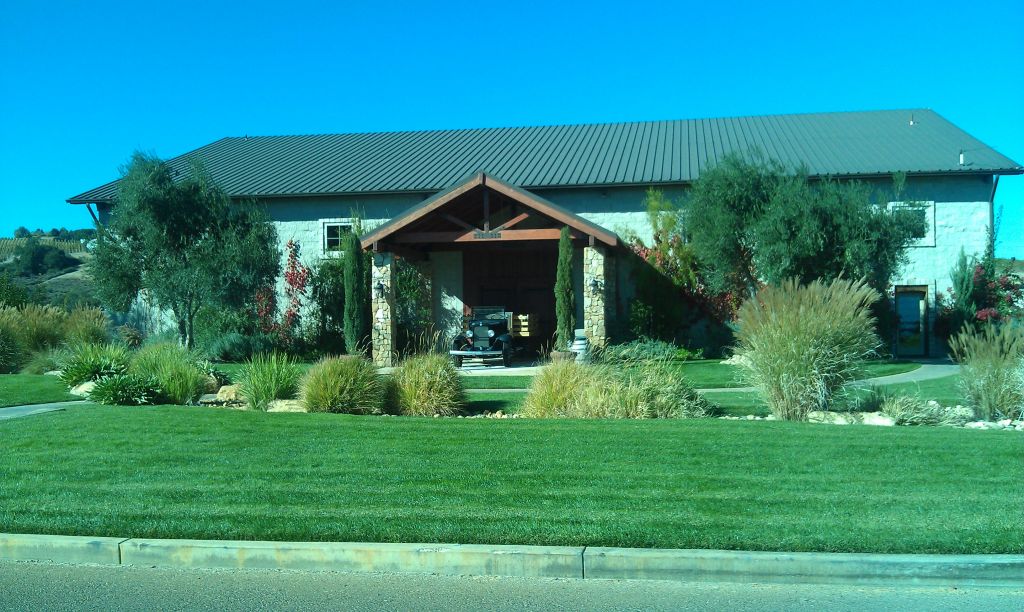 Favorites:

2009 Grenache

2009 Tres Violet


Tobin James Cellars
We had some extra time after that and went to Tobin James, which was another that was recommended by our Disneyland Sommelier contact. The architecture of the place looked like a Hawaiian lodge. The inside had some history, including an authentic, old-western bar that the owner supposedly bought from an old ghost town tavern and moved to its new location. Unfortunately, the architecture and history were the extent of anything that was worth visiting this place. First, the place was almost completely packed with drunken tourists. Normally, I would have left but they place was spacious enough and we actually got a spot at the bar and the attention of one of the hosts right away. Secondly, the wine was ordinary. The prices were lower than other places but there was nothing that we tasted that we couldn't have gotten the same quality of at the local Bevmo.
We heard from others later on that Tobin James makes some decent reserve wines but we saw no evidence of anything but their standard line-up (nor was anything offered) when we were there.
Anglim Winery
Our last visit on Saturday was to Anglim, which was a place that our friend Keith recommended as a definite must visit. Steffanie, the owner, was the sole host of this small tasting room in downtown Paso Robles, next to the train station.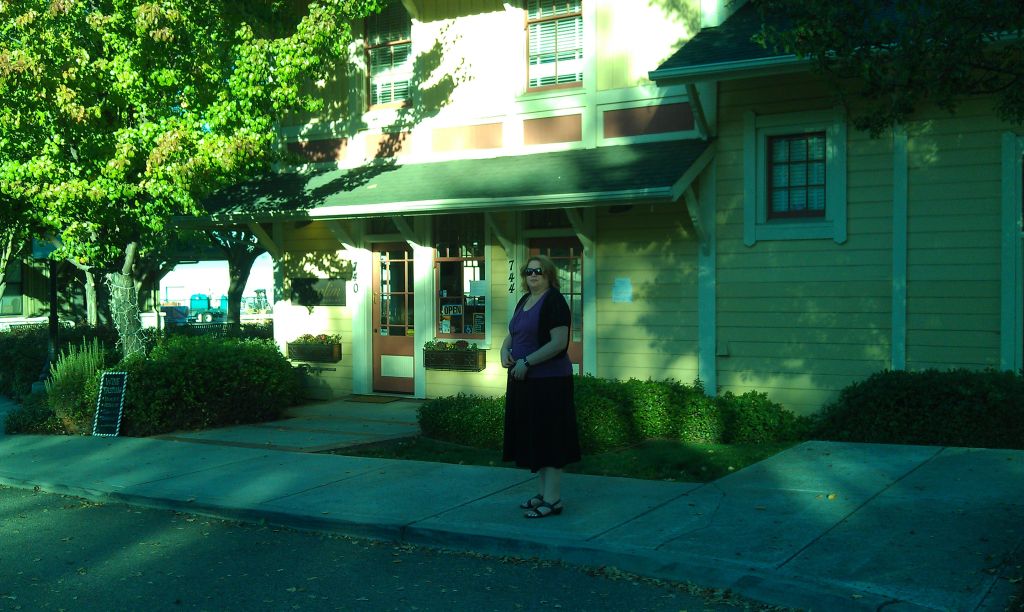 She mentioned that she and her husband had started making wine at home as a hobby and liked it so much that they started doing it professionally. Whatever they figured out, they are doing it right. Most of the wines that we tasted were exceptional. Their Mourvèdre was particularly tasty and probably the best that I have had yet, rivaling my current favorite from Jaffurs.
Favorites:

2009 Cerise

2009 Viognier Rossanne

2008 Grenache

2008 Pinot Noir
Based on a recommendation from our friend Keith, we had dinner at Artisan in downtown Paso Robles. We had a little bit of difficulty getting to the restaurant because the police had several blocks taped off so that they could complete a crime scene investigation from a shootout between a CHP (California Highway Patrol) and a dirt bag that occurred earlier in the day. We got a good table overlooking news crews who were interviewing witnesses.
Dinner was disappointing, despite the adventure.
Turley Wine Cellars
On Sunday morning, we headed south toward Santa Barbara but made a stop at Turley Wine Cellars based upon a recommendation from Keith to try their Zinfandels. We were not disappointed. Turley had several different Zinfandels from different vineyards, each of which were outstanding.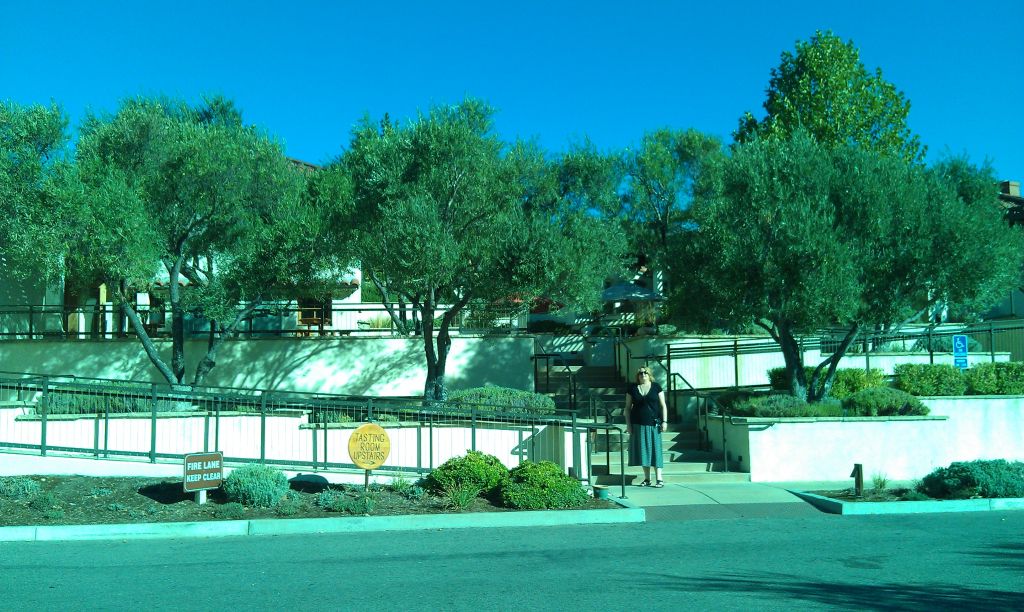 Favorites:

2010 Dusi Zinfandel

2010 Pesenti Zinfandel

2010 Ueberroth Zinfandel


Sans Liege
We drove south toward Santa Barbara but stopped in Pismo Beach to visit the Sans Liege tasting room based upon another recommendation from Keith because of their Rhone varietals. Although I'm not a huge fan of Rhone-style wines and particularly not of Viognier, we liked just about everything that they made, including the Viognier. We didn't buy anything on this visit but we did join their wine club, which included biannual delivery of a 6-pack assortment; once in the Fall and once in the Spring.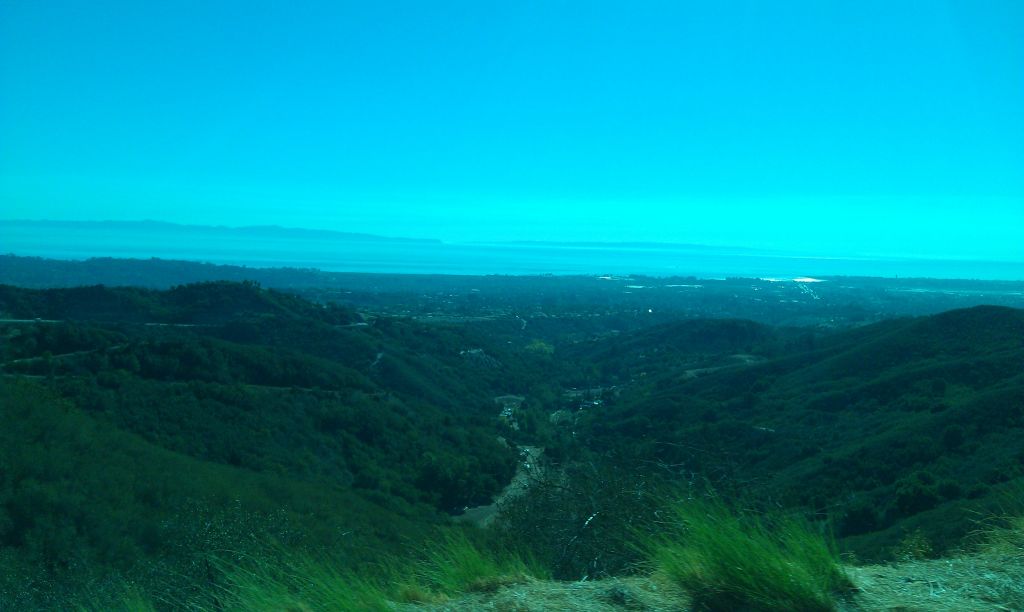 Jaffurs Wine Cellars
We continued our drive south and ended our trip at Jaffurs, one of our favorites in Santa Barbara.
A couple of years ago we took a "wine train" trip from Los Angeles to Santa Barbara. Our little group had a guide from the area who took us to some of the tasting rooms in town. We quickly suspected that the guide was getting kickbacks from his friends at the tasting rooms because the quality of the wines ranged somewhere between abysmal and craptacular so we fled the group and struck out on our own. We called our friend Tana, who was familiar with the area, and she strongly recommended a hike to Jaffurs (we were on foot), which turned out to be about 5 miles away from where we stepped off the train. The hike was worth it. We loved their Mourvèdre, Syrah, and Petite Syrah and bought a few bottles.
Just recently, we finished the last bottle of Mourvèdre from the wine train trip and added Jaffurs to the tail end of our Paso Robles trip to get more.
On this trip, we found that they had just sold out of Mourvèdre. They still had plenty of Syrah and Petite Syrah, which was just as good as we remembered. We ordered a few of each and joined the wine club so that we could get some Mourvèdre delivered when it was ready.
Ocean, our host (yes, that is really his name), recommended that we have dinner at Opal, which was a restaurant on State Street in downtown Santa Barbara. It so happened that Ocean worked there, too. Of all the places at which we dined during our trip, Opal was by far the best restaurant.
Favorites:

2010 Grenache Blanc

2011 Viognier

2010 Syrah, Santa Barbara County

2010 Petite Syrah, Thompson Vineyard

2009 Syrah, Verna's Vineyard
Conclusions
| | |
| --- | --- |
| Vineyard | Most remembered for |
| Justin Vineyards | Everything they make is outstanding |
| Tablas Creek Vineyard | They sold cuttings of their Rhone varietals |
| Villa Creek Cellars | Most unassuming tasting room compared to the amazing quality of the wine |
| Niner Wine Estates | Most beautiful property compared to the disappointing quality of the wine |
| L'Aventure Winery | Smallest and most crowded tasting room; didn't get a chance to taste the wine |
| Calcareous Vineyard | Highest point and most beautiful view of Paso Robles |
| Tobin James Cellars | Most suited for large groups that are more interested in getting hammered on cheap wine |
| Anglim Winery | Husband and wife team and best Mourvèdre |
| Turley Wine Cellars | Best Zinfandel |
| Sans Liege | Beautiful view of the ocean and great Rhone varietals |
| Jaffurs Wine Cellars | Best Syrah and Petite Syrah ever |
Other Observations
News reports from the chase and shootout that ended up on 13th street in downtown Paso Robles said that the CHP officer was released from the hospital later in the day, thanks to the flak vest he had been wearing during the shootout. The dirtbag wasn't so lucky.