A visit to Oregon's Willamette Valley
A few years ago we started making trips out to "wine country". We have been to Napa Valley twice but with so many other places to visit, we wanted to do something different this year. Although California's coast hosts a nearly inexhaustible supply of wine countries, this year we ventured further north into Oregon's Willamette Valley.
I should preface this recount by stating that I do NOT like cold weather. Lorna tolerates it and in confidence, would probably admit that she could live in cold weather, provided a sufficient supply of feline space heaters (of which we have many). I, on the other hand, prefer the scorching temperatures of the desert and only tolerate cold weather under duress or sufficient incentive. The incentive in this case is the legendary pinot noir that grows so well in the Willamette Valley.
Prior to our visit, we researched wine blogs, magazine reviews, and harvested as much information about the Willamette Valley that we could find. The Willamette Valley extends from Portland in the north through Eugene in the south, which is approximately 110 miles. With only two days planned to visit, we targeted the northern region (Newberg/Dundee) with a detour down to Salem in order to visit our oldest favorite, Witness Tree Vineyards. The places that we ended visiting were a combination of prior research, local recommendations, and changes in plans based upon what tasting rooms were open.
We planned on only two full days in the region, which turned out to be woefully insufficient. There are three reasons for this appraisal.
First, we had gauged our visit based upon the brisk pace in which it is possible to hop between Napa Valley vineyards. As densely spaced as Napa vineyards are, it is feasible to walk between them, which is probably better for most soloists considering the level of inebriation accrued. The problem that we faced in the Willamette Valley is that the vineyards are much further apart, adding a transportation factor that we hadn't considered as a significant issue.
Secondly, most of the vineyards and wine bars in the Willamette Valley are only open between 11:00 AM and 4:00 PM, leaving a scant five-hour window in which to navigate a flight plan.
Thirdly, we visited during the "off" season, which meant that many of the tasting rooms that we wanted to visit were not open. We prefer to visit during the "off" season to avoid the crowds and to get the wine makers' exclusive attention but arranging a private tasting with an establishment that isn't normally open adds logistical overhead to an already problematic schedule.
Another reason for visiting later than we did, which doesn't necessarily need to apply to future trip scheduling criteria, is that the weather was unseasonably cold. There was snow on the ground and the temperature fluctuated between the 20s and the 40s. As a result, many places were either closed or opened later than the posted time.
To illustrate these points, our original list of places to visit included 20 vineyards, which we based upon our ability to visit 18 Napa vineyards in two days. In the Willamette Valley, we were only able to visit 8 in two days.
We arrived on a Thursday evening and stayed at a wonderful bed & breakfast on the ridge of the Chehalem Mountains, aptly named the Chahalem Ridge Bed & Breakfast. Kristin, the Innkeeper, was a font of local lore and steered us in the direction of Jory's at the Allison Hotel for dinner. Although we like "different", Jory's was different to the point of being bizarre, compounded by the impediment that everything was presented in French (of which my vocabulary is limited to "Sacre Bleu").
In the morning, we were delighted to find that Kristin was a culinary school alumni, serving us some amazing salmon quiche in home-made walnut-something crust and
cinnamon yogurt apples, which was far beyond the quality of any B&B breakfast that we had ever had.
Before leaving the Inn, we received recommendations from other guests to visit Duck Pond vineyards. Kristin gave us some different recommendations, which appeared to be more in the category of "quality wines" rather than "get tanked for a few bucks". Her advice included a warning not to visit Duck Pond, which we should have heeded but foolishly ended up figuring out on our own.
Our first stop was at Chahalem's tasting room in Newberg. Chahalem was on our list of places to visit based upon blog discussions from previous visitors. We were not disappointed. We were the only ones there for a whole hour, which gave us exclusive attention. We acquired:
(12) 2009 Dry Riesling Reserve
(6) 2007 Ian's Reserve Chardonnay
(6) 2008 3 Vineyard Pinot Noir
Next stop was at Anam Cara's tasting room in Newberg, based upon a recommendation from Kristin at the Chahalem Ridge B&B. Although we were intrigued by the Celtic influence, we mostly went because a lot of places simply weren't open because of the cold weather. Although the prices were a little steep, the pinot noir was very good. We acquired:
(6) 2007 Estate Reserve Pinot Noir
(3) 2007 Mark II Pinot Noir
(3) 2006 Heather's Vineyard Pinot Noir
Our next stop was at the Dark Horse tasting room, which was the showcase for Sineann (pronounced "shin-ann") Vineyards, which was on the "must visit" list from several blogs. We ended up spending more than an hour at this location, at which we were the only guests. Sineann is part of a co-op of other vineyards, also featured at the Dark Horse. There were so many outstanding wines featured that we acquired more than we had intended:
(12) 2008 Ferraro Zinfandel
(12) 2009 Sineann Sauvignon Blanc Marlborough NZ
(3) 2009 Sineann Pinot Noir Resonance
(6) 2007 Sineann Merlot Sugarloaf Mountain (Napa)
(3) 2009 Sineann Old Vine Zinfandel
(12) 2006 Sineann Abondante (Big Red Blend)
We had lunch at an underground restaurant next door to the Dark Horse, called Subterra. The food was good and like everything else that we had experienced during the day, we were the only patrons.
After lunch, we visited Adelsheim, which was on the list due to multiple awards that they had won in Food and Wine magazine. Unfortunately, they were completely sold out of everything for which the magazine cited having won an award. The tasting room was surprisingly crowded and the wines that they did have were uninteresting and prohibitively expensive.
It was getting late at this point and most places were closing for the day so started heading south toward Salem. On the way, we happened to drive past Duck Pond, which was still open. Despite Kristin's advice to avoid Duck Pond, we stopped and visited their tasting room. Kristin was right; we rated everything that they had as "awful" in multiple categories. Fortunately, they only took us for $5 for the cost of the tasting.
We arrived at the Hopewell Bed & Breakfast just north of Salem after a 30-minute drive south. The Inn was on a huge farm and our room had a rugged hunting theme with pictures and sculptures of dead animals everywhere. I can't be certain if the animals were intended to be depicted as dead but assuming a post-hunting representation, it would stand to reason that spoils of the hunt are bereft of life. We had supper at La Capitale in downtown Salem, which was another French restaurant but with more of an understandable flair. Saturday morning, Mike, our Innkeeper, showed us their newest baby: "Huckleberry", a 3-day old calf.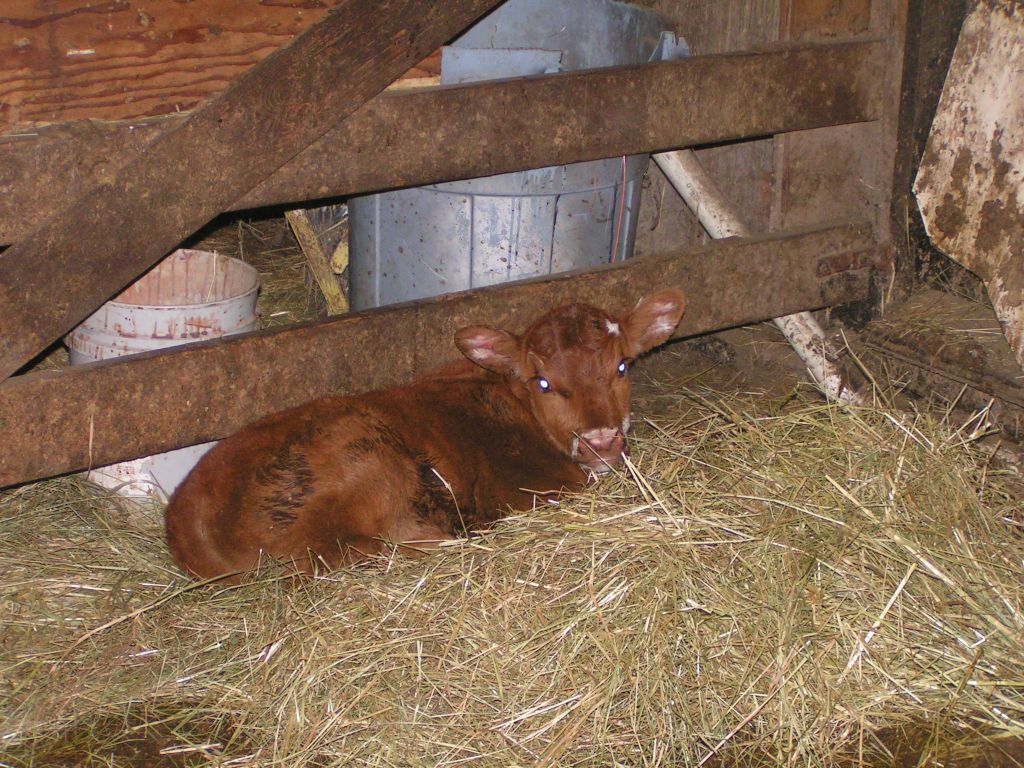 Based upon recommendations from our Innkeepers, we first visited Stangeland Vineyards in Salem. Although they were not scheduled to open until 11:00, we called ahead and requested an earlier visit. We met Larry Miller, the wine maker and owner, and ended upon staying for almost an hour and a half, during which we were the only guests. Larry had an amazing knowledge of wine making and we learned quite a bit about wine chemistry and the wines that he made. In particular, we learned about "wine diamonds", which is actually a crystallized by-product of tartaric acid that sometimes forms on corks and in wine bottles. All of the wines were excellent and the prices were far below anything else that we had seen. We acquired:
(12) 2006 Chardonnay
(12) 2008 Chardonnay (both Chards were excellent, done in a traditional white Bordeaux style)
(12) 2009 Rose of Tempranillo (great on its own but will make perfect sangria)
(12) 2005 Estate Reserve Pinot Noir
(12) 2007 Estate Reserve Pinot Noir (a little tannic but has huge potential after a couple of years in the cellar)
The next stop was our one MUST visit: Witness Tree Vineyards in Salem. We started buying Witness Tree pinot noir 15 years ago and had always intended to visit when we finally made it to Oregon. Although they were not open the weekend that we visited, we called ahead and the owner let us in for a tasting. The conditions were not ideal: a skunk had sprayed under the stairs of the tasting room that morning and the place was rank with skunk juice. The owner, who was in poor health, was also not very happy about our visit. Despite these disappointments, the owner opened a few bottles of his best pinot and chardonnay for us to taste. The prices were a little high but everything that we tasted was exceptional. After we acquired some wine, we think the owner was less bitter about having opened the tasting room for us.
(12) 2007 Vintage Select Chardonnay
(12) 2007 Vintage Select Pinot Noir
(12) 2007 "Claim No. 51" Pinot Noir
We wanted to stay in Salem to visit a few more places but it was already afternoon at this point so we drove back north. We had lunch at the Dundee Bistro, which was anticlimactic considering the rave reviews that we had seen online.
We visited the Ponzi wine bar next door, which was on our "must visit" list from blog reviews. The tasting experience seems to be focused more on making money from the tastings than from selling wine. The wines were unimpressive and prohibitively expensive.
The next stop was Sokol Blosser in Dayton, which was probably the most scenic of all the vineyards in the Newberg/Dundee area. We had tried a Sokol Blosser pinot for dinner at Jory's Thursday night and thought it was good enough to see what else they had. The vineyard is on a higher elevation than most others and overlooks Newberg/Dundee. Unfortunately, that was the only quality that we found. The theme of the tasting room appeared to be "drink, pay, and get out" and the pinot was disappointing, despite our previous experience with it at Jory's.
Our last stop was Zerba's tasting room. Zerba is a wine maker from the Walla Walla Valley, on the border between Washington and Oregon. They had some fairly good cabernet and merlot, which we probably would have acquired if they were able to ship to Arizona, which they could not.
There were several other places that we tried to visit but were not open, despite calls to the vineyards to request a personal visit. Also, there are many vineyards that specialize in grapes other than pinot noir (Rhone varietals, chardonnay, etc.) but were so far apart that trying to visit them all would result in using up all the daylight driving. The Willamette Valley is too large to limit a visit to only two days.
Knowing what we know now, we would have planned this trip differently.
Don't visit in the winter. Any time after March and before the next winter is best

Plan to stay more than two days

Call ahead or ask up front to make sure that the vineyard can ship to your state

Plan accordingly. The northern part of the Valley, just south of Portland, has the highest concentration of vineyards, which is a good target area for a short trip. The central and southern Valley has fewer vineyards, which are less likely to be available for tastings unless arrangements are made in advance. However, we suspect that the central region is less likely to have the "drink and get out" mentality that places in the north seem to have.