A visit to wine country
I preface the next paragraph by declaring that my wife is my best friend and the love of my life. Any analysis of her personality characteristics I cite here in favorable humor and only to support discussion of my typically bizarre and unconventional decision making process.
My honey doesn't have a "gift receiving" personality, if such a trait exists. Most of the trinkets and goodies that I have bought her over the years have ended up as unintentional physics experiments in electrostatic dust accumulation. The reason for this is more likely rooted in my inability to know what she will actually use or what material spell components she has run out of, which she ends up taking care of herself when she shops. This certainly isn't a negative trait; I think it demonstrates her preference for emotional stimuli over accumulation of trinkets. It took me several years to realize that expendable gifts, such as bed & breakfast weekends and short, out-of-town jaunts are much more fulfilling and less likely to end up as oil shale under strata of discarded catalogues.
After promising her a trip to Napa Valley at Christmas of 2005 and taking more than a year to finally arrange the excursion, we finally cobbled one together from the tattered remains of our bloated schedules. The logistics for such a trip were complicated because she ended up attending a security conference in San Francisco the same week. Leaving our offspring in the hands of people I trust, I left for San Francisco on Friday to pick Lorna up from her conference and head toward wine country.
The drive from San Francisco International Airport to Napa couldn't have taken place at a worse time. My flight from Phoenix was delayed due to heavy fog in San Francisco, which isn't unusual for this time of the year. My intention, with arranging an early flight, was to avoid rush-hour traffic. The air traffic control delays were just enough to place me at a time of day at which I was sharing my 60 mile drive to Napa with every other San Franciscan, who were also trying to leave the city, resulting in an average rate of travel of 15 miles an hour. The fog lifted slightly but only enough to allow a steady rain. Days of non-stop rain are also not unusual for this time of year but the locals later told me that the weather had been dry for months up until this day. Despite this harbinger hinting at darker things to come, my misgivings were for naught.
The last time I visited a winery was as an observer on my father's excursions to Rancho Cucamonga, California. Southern California has a few fertile fields that accommodate grapes and Rancho Cucamonga, situated somewhere between San Bernardino and Los Angeles, was host to several vineyards. In the 70s, there must have been many more vineyards because I recall spending all day, accompanying my father while he visited vineyard after vineyard, tasting wine. Into the 80s, I recall my father cursing the gangs, droughts, swarms of locusts, or whatever pestilence had forced closed the doors of many of those wineries.
Having never been this far north in California (despite having lived in California for an accumulated smattering of about 14 years), I did not quite know what to expect when we arrived in Napa. It was dark when we arrived (no thanks to the traffic from San Francisco) and raining heavily. My initial observation, once we had made a few stops and found our hotel, was similar to my first impression of Nevada. In Nevada, just about every commercial building (e.g., convenience store, restaurant, service station, hotel) has slot machines. In Napa, these same places sell wine or host wine tasting events. I should not have been as surprised as I was, considering similar, regional propensity toward local culture in other places (i.e., red beans and rice on the Gulf coast, radioactive rocks and missile fins in New Mexico, blowguns and shrunken heads in Samoa, etc.).
As dawn lifted on the beginning of our only full day in Napa, the enormity of the uniqueness of this region hit me. Everyone grows grapes: from the edge of Highway 29 in all directions, up the sides of the mountains until rocky terrain and gravity made grape growing and harvesting prohibitive. Local residents grow their own grapes for personal winemaking. "Mom & Pop" vineyards, which make up most of the hundreds of vineyards in wine country, hug the highway and dot the landscape in all directions. Although the most prolific type of vineyard, the "Mom & Pop" variety sell their wines locally (or even exclusively in their storefronts) and seldom distribute outside of wine country. The larger vineyards, which lie on a scale somewhere between "Mom & Pop" and mass-production, were the ones that we targeted, having good, relatively inexpensive wines that they can ship to Arizona. The largest vineyards are the ones that consumers around the country are most likely to hear about: Beringer, Robert Mondavi, and Beaulieu among the three largest. These large vineyards produce millions of bottles a year at the expense of quality, although they do produce smaller amounts of "reserve" quality wines.
Due to the small gap in our schedule, we only made time to stay in wine country one full day. This was not enough but I will leave my retrospection for the conclusion of this missive.
Prior to visiting Napa Valley, I consulted Ken (one of my associates), who is well versed in wine lore and makes annual visits to the region. When we discussed wine preferences, I realized that Ken and I had the same favorites so it made sense to ask him to enumerate his TOP TEN favorite wineries. Ken produced a good list, to which I applied criteria of my own in order to produce a short list of wineries that we could reasonably visit in a day. One of my requirements was that the winery must be able to ship to Arizona. Alcohol-related, interstate shipping legislation imposes highly restrictive, mind-bogglingly complex, and wildly inconsistent restrictions on wine makers and distributors involving where and to whom they are allowed to sell wine. The legislation varies from state-to-state. Apparently in Arizona's case, the state legislators wanted to protect the interests of Arizona winemakers from the incursion of California wines into the Arizona markeplace. This legislation makes no sense due to the fact that the quality of wine that Arizona winemakers produce usually doesn't exceed that of donkey piss, which nobody with the ability to distinguish between a Cabernet and fifth of Night Train in a paper sack would purchase. I apologize to anyone who does fall into this category; this analysis is based solely upon my opinion, the only topic in which I can confidently claim expertise.
Some additional criteria in my selection included proximity to the hotel in Napa, non-restrictive hours for wine tasting on Saturday, and not responding like a snooty asshole on phone when I called with my inquiries. The last wasn't originally one of my criteria but it became one after the abrupt conclusion to one of my calls.
The following critique illustrates our experiences at the wineries that we visited.
Cakebread Cellars
St. Supéry Vineyards and Winery
Peju Province
ZD Vineyards
Merryvale
Beringer
Whitehall Lane
We began our tour with a hearty breakfast and brought along several bottles of water. Many of the wine tour specials in Napa include transportation so that the customers can get hammered without having to worry about getting stopped by "ChiPs" (or rather Sherrif Rosco P. Coltrane in these here parts) between tastings. We had a rental car (a convertible Mustang - which is horrible to drive due to fully obscured blind spots, in addition to not being able to put the top down due to the constant rain) so we staggered our sipping with the bottled water to avoid becoming impaired.
Cakebread Cellars
Cakebread Cellars was first on the list because when I called to ask about wine tasting, they piqued my interest with the offer of a tour of the winery that included wine tasting. I scheduled this for 10:00 AM Saturday morning so we planned a circuitous route with Cakebread at the beginning. We arrived as they opened for the day and were greeted by a fellow named Michael, who took us on a private tour of the winery. Michael was extremely knowledgeable about Cakebread's winemaking process and corrected a few misconceptions in my limited knowledge of viniculture. In particular, we learned about how some of the mass-production wineries dump oak chips in fermenting wine in order to impart the oak's tannic qualities into the wine - a shortcut for which "hand crafted" wineries usually use oak barrels. The tour ended with a tasting of five of Cakebread's current wines, all of which were prohibitively expensive, none of which were distinguishingly superb. I made a note to come back and pick up half a case of the Chardonnay if we didn't find anything else like it during the day to fill our white wine niche. My only regret was that I had not signed us up for the "Sensory Evaluation Experience", which we didn't see offered anywhere else. According to the course description, participants "learn to identify the various wine components of tannins, acids, sugar and alcohol, and how they interact with food".
The remainder of the wineries that we visited offered open wine tasting. Because we didn't know how long our visits would take, I didn't want to commit us to a schedule. Our next stop was St. Supéry was just up the road from Cakebread.
St. Supéry
St. Supéry hosted a 1960s-looking wine bar with several knowledgeable pourers/vintners administering their wares. Our host was a Latino gent named Chalo who tailored our tasting based upon our wine preferences. All of the wines were very good, although being slightly beyond my price range. As the day progressed, I would discover that the prices that I normally considered excessive or prohibitive were "normal" across all of the wineries. The "inexpensive" wines (between $10 and $20) turned out to be cloying, dull, "skunkish", or other descriptive characterizations, none of which are favorable. The "affordable but tasty" wines turned out to be in the $20 to $40 range so we had to modify our spending limit to this price range at the expense of quantity. We did taste a few truly exceptional wines that were definitely out of our price range, one of which was St. Supéry's Limited Edition Rutherford Cabernet Sauvignon. I can only describe this wine in terms of a sexual experience so I will curtail the imagery. The wines in our now-modified price range were very good and we ended up purchasing half a case of Limited Edition Dollarhide Sauvignon Blanc. We also joined their "Divine" wine club, which ships one limited edition wine to us every other month.
Peju Province
Our next stop was Peju Province. We almost skipped this one but we are glad that we didn't. When we arrived, the entry foyer was gradually filling up with visitors. A quartet amongst the visitors had arrived in a wine tour limousine and was already moderately hammered, waiting to exacerbate their inebriation. Apparently, Peju Province depends upon a computerized database to initiate impromptu tours because the organizers spent about 10 minutes troubleshooting the computer equipment (which they surprisingly resolved by smacking the offending piece of equipment with an empty wine bottle) before initiating our tour. Our tour guide was a 40-ish gent named Ron who recently retired as a chemist for Exxon. Ron brought our group (which included the hammered quartet from the limo) upstairs to a private bar where he introduced us to Peju's current wines. Although the tasting was probably intended to follow a scripted process, the dynamic nature of our group turned the tasting into a scene that I can only compare to an Irish pub on St. Patrick's Day. Two of the women in the quartet offered to demonstrate their "pole dancing" expertise on the bar, which apparently is the new rage in exercise in the Los Angeles area. One couple from Arkansas couldn't help but bear the brunt of Bill Clinton jokes. Throughout our soiree, Ron introduced his entire line-up of wines, pouring as we chatted. After he exhausted the standard line-up, Ron revealed some of the limited edition wines that were far beyond our price range but surprisingly, not as memorable as some of the younger, less expensive wines. Presumably to prepare for the next group (but more likely to prevent an incident involving the quartet females from taking off their clothing - which I wouldn't have minded), Ron concluded the tasting session and most of the group dispersed. We ended buying half a case of 2003 Peju Cabernet Sauvignon and a case of 2003 Peju Merlot. We also joined their wine club, which includes quarterly delivery of one each of select white and red wines.
ZD Vineyards
After a non-alcoholic lunch, we took a detour from our list to visit ZD Vineyards. A couple of years ago, we dined at Capital Grille in Phoenix because they were one of the few places in the Phoenix metropolitan area that served dry-aged steak. At that dinner, our server recommended the ZD Cabernet, which turned out to be superb and complemented the steak perfectly. Since that time, I have looked for ZD wines at the wine store because they also make a delicious Chardonnay and Merlot. In preparing for this Napa tour, I had not included ZD on the list because Ken had not recommended it but it was a short diversion from our circuit so we stopped by. My disappointment can only be expressed by my intention to never visit this place or buy another ZD wine again. Although the vineyard and main building were impressive and comparatively large, the tasting bar was stiflingly "cozy". When we arrived, the pourer was in the midst of an argument with tasters, who evidently were members of the ZD wine club but could not display their exclusive membership cards in order to waive the tasting fee. The server then turned his attention to other guests to boast about how many other vineyards he had to quit before working at ZD when we were finally able to attract his attention. The tasting fee was almost prohibitively expensive and provided only a small selection of ZD's current wines. Between pourings, we had difficulty keeping the server's attention to answer questions about the wine or even to move on to the next wine in the tasting. In contrast to my memory of ZD wines, the wines that we tried were tart and tannic, a sign of poor quality and/or premature bottling. After we completed our series of tastings, we decided that any further attempt to try anything else would be problematic and prohibitively expensive so we left. I'm afraid ZD is henceforth on our black list.
Merryvale
Merryvale's wines, on our next stop, weren't awful but they were expensive and anticlimactic. The most memorable thing about the series at the tasting was a surprising observation about "bad" wines. While at Cakebread earlier that morning, Michael gave us a wine "aroma wheel" that Professor Ann Noble at the University of California, Davis, had developed. I can best describe this wheel as a periodic chart for wine, in which wine fragrance (or odor in some cases) can be compared to minerals, fruit, meat, and other items. One ominous section of the wheel illustrates categories that can be compared to "wines gone bad" or simply wines with unusual characteristics. I was surprised to see such odor comparisons as "diesel fuel", "sulfur dioxide", "mouse nest", and "skunk".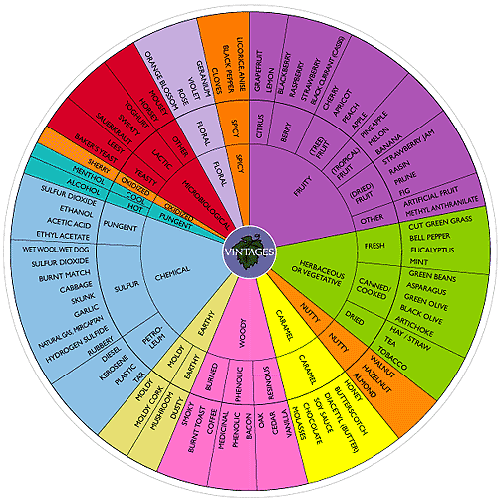 I had previously come to the conclusion that an active imagination is a prerequisite in order to become a professional wine taster because of some of the ridiculous comparisons that typically introduce a wine. However, our host at Merryvale placed a Chardonnay before us that definitely smacked of skunk. I remember years ago as a tot, smelling the aftermath of our German Shepard after she frightened a skunk and had to be bathed in tomato juice to remove the stench.
Beringer
The only mass-produced wine vineyard that we visited was Beringer. Beringer makes some great "starter" wines because you can find them any grocery store and some convenience stores. The Beringer vineyard in Napa has two tasting rooms: the standard stuff that you find at the grocery store and the Select vintages. We visited the Select tasting bar. The line-up was disappointing because they were far beyond our price range and they weren't particularly good. When I asked our host about their "wine club" (a Select wine per month shipped), he informed us that they could not ship to Arizona. We aborted any further dealings with Beringer because I had previously received positive confirmation regarding Beringer's ability to ship to Arizona. I'm afraid Beringer is now on our black list.
Whitehall Lane
Our last stop before supper was Whitehall Lane. This was the smallest vineyard that we visited. All that they produce, they sell locally and don't distribute outside of Napa. The wines were relatively inexpensive and surprisingly good. The thing that I found most surprising was the screw-top caps that they use for their white wines rather than cork. Their reason for this involves some invasive bacteria that they claim occurs during the corking process. I have never heard of this nor have I done the research so I cannot confirm the validity of this problem. Their red wines, however, were all very good, and are corked. Our pourer claimed that despite the same bacterial risk to red wines, people tend to not take screw-top red wines seriously so they bear the risk of a few bad wines by using cork. The 2004 Napa Merlot was particularly good and within our price range so we bought a case.
We concluded our touring at a family-style pizza place, which of course provided an impressive line-up of local wines.
Our tour yielded the following addition to our wine cellar (which currently consists of the garage, which will remain suitably chilly for at least the next month):
6 bottles 2005 St. Supéry Limited Edition Dollarhide Sauvignon Blanc

6 bottles Peju Province 2003 Cabernet Sauvignon

12 bottles Peju Province 2003 Merlot

12 bottles Whitehall Lane 2004 Napa Merlot
In conclusion and retrospect, the trip did help us to fine-tune our next trip to wine country.
Stay at a Bed & Breakfast rather than the Marriott. Wine country appears to be liberally peppered with Bed & Breakfast inns, which we have found to have much more character than hotels and cost about the same.
Ken had suggested visiting the Robert Sinskey Cellars with a recommendation to try their pinot noir, which we regrettably did not do this time. When I called, they had some very interesting-sounding tours, which were unfortunately filled with advanced reservations. More advanced planning next time should yield us a reservation for visiting this vineyard.
If you want to learn how to better identify various qualities in a wine, Cakebread's "Sensory Evaluation Experience" is definitely a class to schedule. Like the Robert Sinskey Cellars tours, this is also something that should be done well in advancing of visiting.
Plan for two full days of wine tasting. One day isn't nearly enough and any more than two may be tedious (unless you're getting paid to tour vineyards in which case let me know how you landed a job like that so I can apply).
Keep in mind that Napa Valley isn't the only place in wine country! Sonoma Valley and several other spots on the map also host vineyards, as well as several vineyards in Oregon and Washington State. This is a good basis for research if you plan annual trips.